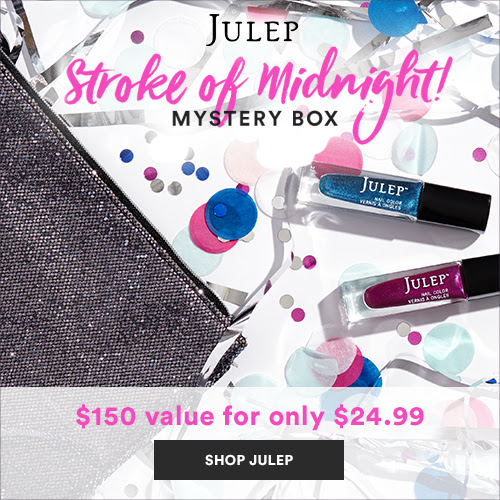 Stroke of Midnight Mystery Box – $150 value for $24.99 through December 19, 2016
OMG, I love this new offer by Julep! This is an incredible value for the kid of products you can get in the offer! Check it out!
Celebrate the season with our sparkliest mystery box of the year. Includes TWO new festive nail polishes, a sequin party wristlet + beauty and nail surprises we know you'll love. $150 value for just $24.99!
Every Stroke of Midnight Mystery Box will include Dora (Bombshell), Brandilyn (It Girl) and the Sequin Party Wristlet. Other products vary. Purchase of multiple Stroke of Midnight Mystery Boxes may result in polish or product overlap. Offer may not be combined with any other promotional offer or discount (e.g Maven 20% discount). No exchanges or returns are possible on Mystery Box or individual items. Estimated full retail value is at least $150. Taxes vary by location.
This post may contain affiliate links.